The 'honest' artwork of Idaho artist Sara Joyce helps rechristen the restored LCSC Center for Arts & History
This article first appeared in the Lewiston Tribune on September 10, 2010. By Jennifer Bauer of the Tribune 
In the 1970s, artists Ross Coates and Marilyn Lysohir noticed something odd peering at them from a rural northern Idaho store window.
"Something really funky and strange and unusual," recalls Coates, now a retired Washington State University art professor.
As someone who looks at art all the time, he says he could tell immediately it was something special. Inside the Genesee antique store they discovered the figures were large, primitive-looking dolls – heavy, like real bodies, when you picked them up.
Their creator, 87-year-old Sara Joyce, spent her life making contemporary art in Idaho. Her work has rarely been shown publicly. A collection of her paintings, doll-like figures, sculptures and other work runs tonight through Oct. 15 at the Lewis-Clark Center for Arts & History in Lewiston.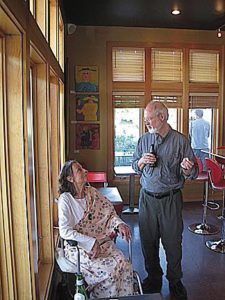 Exhibit curator Ellen Vieth believes Joyce is one of the most undervalued artists living in Idaho today.
"I look at this work and think it's really honest," says Vieth, who met Joyce when she moved to Genesee from Pocatello. "She's not imitating anybody. She didn't care if anyone even saw it. It was just creative art making from the heart and spirit."
A series of paintings Joyce made of people she met in Genesee, where she lived for about 20 years, is included in the exhibit. With bright, cheery colors and simple shapes they bear titles like "Lady with Lamps," "Hazel" and "Gerti Hello Ellen," which pictures Vieth.
Elsewhere in the gallery are simplified forms created with fabric, like a pile of rocks and blank-faced human-like forms Joyce called half-bodies. Throughout all, color, shape, and abstraction are tied together with a craftsman's precision.
Joyce began each day by writing and sketching her dreams, says longtime friend, Pocatello artist Margo Proksa.
"Her paintings and drawings are kind of inspired by those dream experiences but also she's inspired by people and their personas," Proksa says.
The two met when Joyce returned to Pocatello in the 1990s. Joyce was 71, Proksa was 45 and the two spent much time "junking," "hunting" and "gathering" at yard sales and thrift stores. Joyce preferred using discarded materials, something Proksa attributes to her Depression-era childhood. Throughout most of her life, Joyce made her own clothes, preferring non-traditional styles like layers of shirts and wrap-around shirts with leggings.
"Every molecule of this woman is an innovative molecule," says Proksa, who is working to get Joyce's work shown in metropolitan galleries. "Sara, for me, is probably one of the most inspired artists in the state and has always held that position ever since I've known her because her work is so energetic."
The energy came from within, says Joyce's daughter Heidi Linehan of Moscow.
"She did what she did because of who she was. The showing and selling was very overwhelming to her and didn't have meaning," Linehan says.
Joyce now lives in an assisted living facility in Moscow near her daughter. She is recovering from a hospitalization and no longer paints or sews because of weakness in her extremities.
As children, Linehan says she and her two brothers always had homemade clothing, food from her mother's organic garden and a home that was furnished with homemade rugs, curtains, art and classical music. "We were very blessed," she says.
Linehan says her mother is excited and appreciative of the chance to have her work shown. This will be her largest exhibit ever.
"She said, 'I missed my opportunities because I was so focused on doing,' " Linehan says. "She said something to the effect of, 'Everything is always happening at the right place and right time in my life.' "
The show opens tonight at a grand reopening exhibition marking the center's return after a 2009 fire. Now restored and remodeled, three additional gallery spaces occupy the main floor. The new Gallery II will feature work by Laurel MacDonald with a series of large print, hand-colored linocuts of flowers. Gallery III will show two works on display at the time of the fire. The fourth gallery, a remodeled coat room, features the work of Moscow collage artist Forrest Tel Gilchrist.
Hours are 11 a.m. to 4 p.m. Wednesday through Saturday.